New Deaths
Since Lockdown Started
Hand-Made Graph At Right
Click here for full size.
Click herefor the Automated version.
Click here for the data in csv format.
Pre-Lockdown
The number was too small to warrant graphing.
Since Lockdown Started
Pre-Lockdown
All of it.
About This Graph
This was broken out, again, for better scaling because the variation is simply lost at other scales.
This graph illustrates when the positive effects of lockdown kicked in and instead of continuing to rise as it was through the second half of March and first half of April, it basically flattens out considerably starting in mid April. Notably, this graph has a very different curve to it than the one for the whole USA.
One interesting thing to observe here are the sharp down-peaks to a pretty consistent value. The down values represent health-care organizations that don't report on Sundays! And the consistency of that gives a good idea regarding how many don't report on Sundays!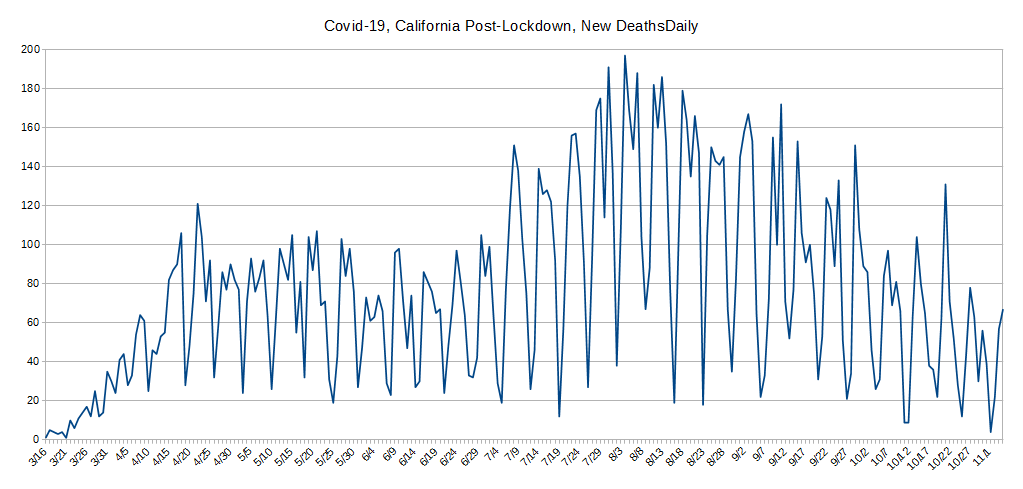 California's Experience
When we first made this graph, we were delighted to see that the lockdown appeared to have blunted the then unrelenting rise in deaths. Since then, however, the death rate went flat, and has even risen a little. Note how the bottoms of the low-peaks (troughs) are all around 30, but since late April the high peaks are trending upward somewhat.
Given how many cases there are outstanding, these numbers aren't crazy bad, especially when compared with New York, but we're concerned about the trend.
As noted with other graphs here, this is supported by the down-turn in the doubling-times curve. CA isn't quite getting it right, and, again, we are concerned.
As an exercise for the curious, grab the CSV data file we provide and point it to your favorite "calc" program like, Microsoft Office's Excel, or "Calc" in OpenOffice, or, our favorite, Libre-Office Calc, and pick a start date, select the columns and have it calculate a sum for these. Then divide that number by how many days you've selected and you can easily compute the average over any period you wish, and thereby get rid of those pesky peaks and valleys for any period you choose. ... It has been suggested we do a "rolling week" average - or something like it - but before we do the work, we'd like to hear if here's significant interest in that, and if so, for which data sets.