---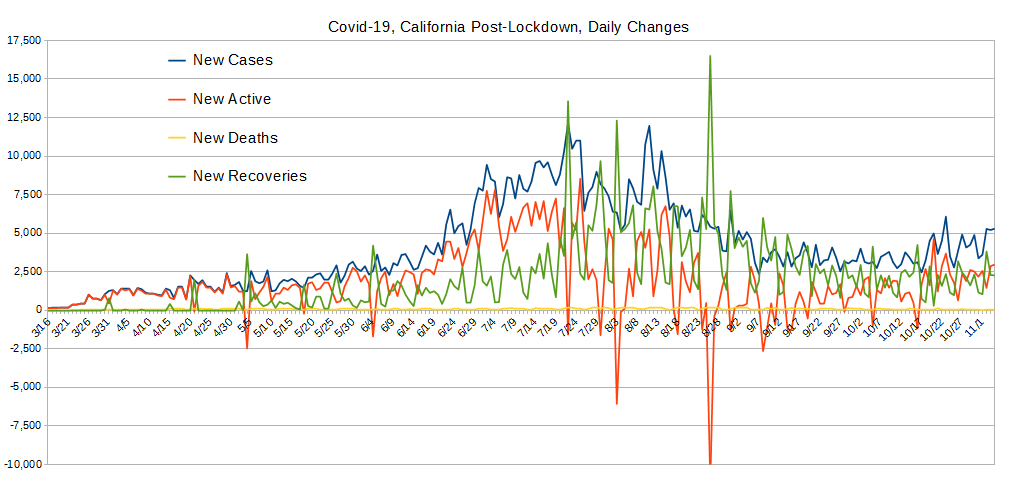 About This Graph
These data were created by taking the daily values for the data used to create the Totals graph above, and comparing with the previous day's value and computing the difference. New Cases and Newly Active cases closely match most of the time and this is because testing is nearly exclusively being done on those people who present themselves for health care. (And, folks, this is definitely "doing it wrong.") However, when people recover (or die), that also has an impact on the daily changes to the number of active cases, and therefore the change from one day to the next which drives how these data are collected.
California's Experience
The huge negative spike in newly active cases along with a big spike in recoveries was a VERY notable occurance. The USA as a whole experienced a similar thing around May 12 while this was earlier. This is the kind of thing we're hoping to see in the numbers everwhere and a lot more frequently.
---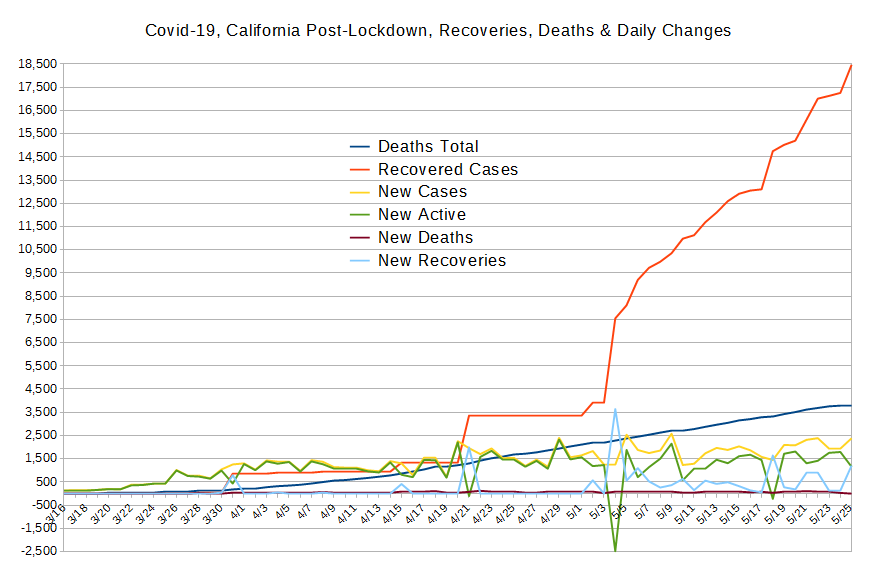 About This Graph
The purpose of this graph is to show two values also shown on the "Totals" graph above with much better scaling. These are the total deaths and the total recovered cases.
California's Experience
The recovered cases line is basically horizontal for a while because of how long people are sick before recovering; it takes a while before there are significant numbers of people recovering, which we see begin to happen in big numbers around May 4.
The "New" lines are all shown with better scaling in the graph above, and are included here for better comparison with total recoveries and deaths.
---
New Deaths
Since Lockdown Started
Hand-Made Graph At Right
Click here for full size.
Click herefor the Automated version.
Click here for the data in csv format.
Pre-Lockdown
The number was too small to warrant graphing.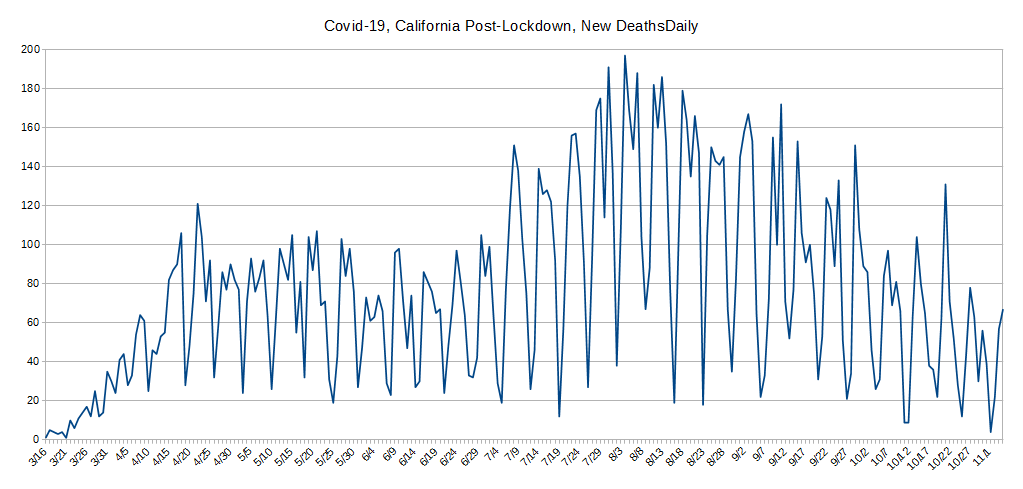 About This Graph
This was broken out, again, for better scaling because the variation is simply lost at other scales.
This graph illustrates when the positive effects of lockdown kicked in and instead of continuing to rise as it was through the second half of March and first half of April, it basically flattens out considerably starting in mid April. Notably, this graph has a very different curve to it than the one for the whole USA.
One interesting thing to observe here are the sharp down-peaks to a pretty consistent value. The down values represent health-care organizations that don't report on Sundays! And the consistency of that gives a good idea regarding how many don't report on Sundays!
California's Experience
As an exercise for the curious, grab the CSV data file we provide and point it to your favorite "calc" program like, Microsoft Office's Excel, or "Calc" in OpenOffice, or, our favorite, Libre-Office Calc, and pick a start date, select the columns and have it calculate a sum for these. Then divide that number by how many days you've selected and you can easily compute the average over any period you wish, and thereby get rid of those pesky peaks and valleys for any period you choose. ... It has been suggested we do a "rolling week" average - or something like it - but before we do the work, we'd like to hear if here's significant interest in that, and if so, for which data sets.