Confirmed Case Doublings
In Days
Since The Beginning Of Data
Hand-Made Graph At Right
Click here for full size.
Click herefor the Automated version.
Click here for the data in csv format.
About This Graph
The concept behind "Case Doublings" is to try and get a handle on whether one is winning the war against a pandemic or not. It's driven by how many cases of confirmed infection are recorded. It's simple: From today, looking to the past, how long has it been since we had half as many cases as we have today? That is, today represents a doubling from what day in the past?
One can also look at it in a forward direction but the information isn't as useful beacuse it jumps around lot due to subtle variations in the day-to-day number of reported cases. And, that also tends to obscure the scale. In contrast, looking backwards always gives a stable line because the daily variations shown and discussed above aren't present.
What's important isn't so much the actual time to doubling but that the time to double keeps increasing. If it starts to get longer faster, you're improving things, and if it starts to get longer slower, you're making things worse, and if it ever goes flat, be very worried, and if it drops, you've really screwed up!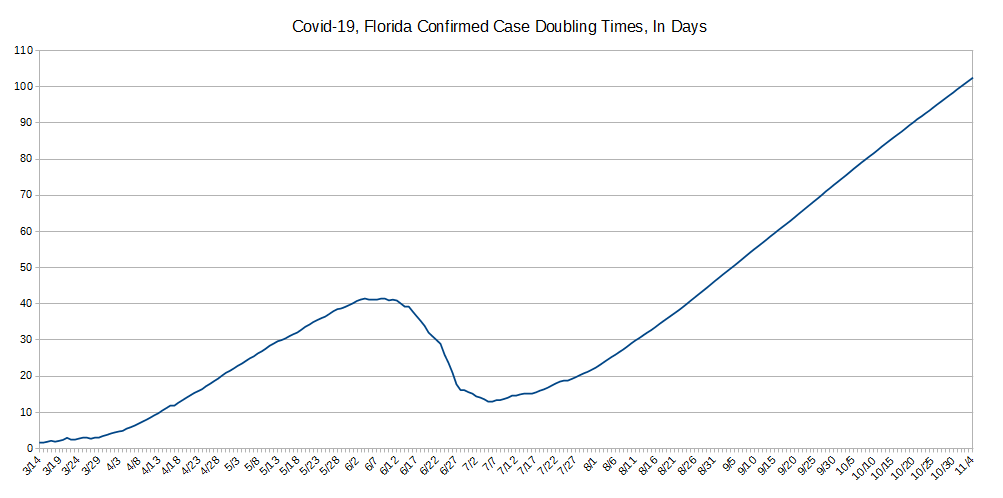 About Florida's Doubling-Times
We're worried about Florida. Note, in particular, how the doubling time has notably not only stopped rising, it's actually gone down in hte last few dais - the first few days after lockdown - "Stay At Home" - ended. This illustrates that the state is on the cusp of a disaster; if things continue this way, the state will regret having the stay-at-home order end.
That said, he initial curve of this line shows that the lockdown worked in Florida as there's a significant upeard shift a few days after it took effect.
From there, the doubling times continue to increase, but aren't really that high, and this is bad.
What's important about this graph is that for a state to be doing well, the line needs to keep increasing - whatever the exact doubling time is is less important the longer things go on. However, Florida has stopped going up and is even now going back down, a VERY troubling trend.