Confirmed Case Doublings
In Days
Since The Beginning Of Data
Hand-Made Graph At Right
Click here for full size.
Click herefor the Automated version.
Click here for the data in csv format.
About This Graph
About Case Doubling-Times
The concept behind "Case Doublings" is to try and get a handle on whether one is winning the war against a pandemic or not. It's driven by how many cases of confirmed infection are recorded. It's simple: From today, looking to the past, how long has it been since we had half as many cases as we have today? That is, today represents a doubling from what day in the past?
One can also look at it in a forward direction but the information isn't as useful beacuse it jumps around lot due to subtle variations in the day-to-day number of reported cases. And, that also tends to obscure the scale. In contrast, looking backwards always gives a stable line because the daily variations shown and discussed above aren't present.
The longer it takes for the number of cases to double, the better you're doing against the pandemic, and the CHANGE in the number of days indicates whether your current actions are helping or hurting. We also think a pertinent timescale is the average time of an infected person's disease to run its course to either recovery or death, presently believed to be at least 21 days.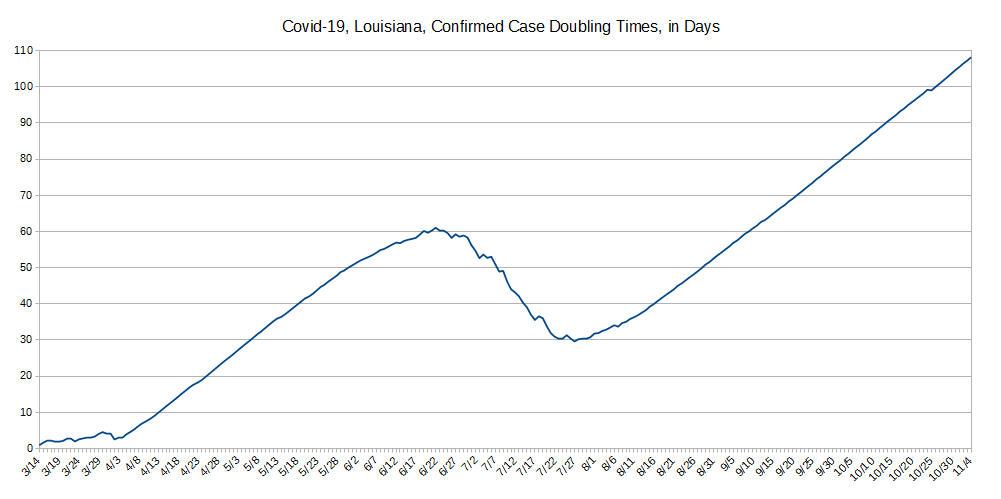 Louisiana's Experience
About Louisiana's Doubling-Times
First, the good news: Once again, Louisiana Surprises! It's case doubling time, looking to the actual experience of the past, is 44 days as of this writing, and that's a full third better than California for, example! Still, is Louisiana ready for double the cases in 42 days? Maybe.
Now, Louisiana's initial reaction to the virus and lockdown can easily be seen in the early doubling data. Up to March 16, there was a good line, but then back-sliding, a little better, then back-sliding, and a third time. Then, finally, on May 2, Louisiana started to get its act together and mostly keep on the straight-and narrow, finally taking this virus seriously. There are four wavers in the data which likely represent some specific events in the state that resulted in enough people getting sick to perturb this line, but thankfully, it wasn't too many people. Our guess would be religious services where people think god will protect them.
The reason the present 44 day number is important has to do with how long people remain sick and therefore in need of health care; if the doubling time is well beyond the average length of time people need care, the less likely health-care facilities will be overwhelmed.
Unfortunately, the length of time a patient stays sick as an active case getting health-care before either being declaired recovered or dying isn't yet well known with any degree of certainty, but there's strong evidence most cases are resolved in about three weeks, so having a doubling time longer than the typical recovery period is a good sign.