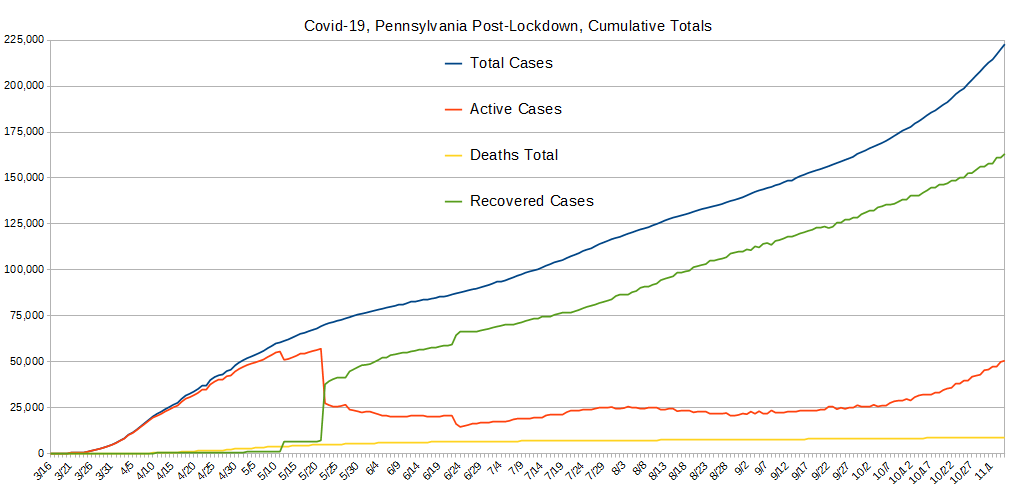 About This Graph
The only of these to ever drop is the number of active cases, which is bound to go down some day. So, other than active cases, it's the rate of change that's important. Most of our other graphs are focused on showing you these changes in the right scale since here, any squiggle from one day to the next is pretty well lost to the eye.
Pennsylvania's Experience
This graph suggests Pennsylvania's case-resolution time is an atounding 38 days, which is what we have to believe if we are to take the reporting on May 12 at face value. And even if we do, the later reporting on May 22 remains puzzling since not everybody got infected at the same time.
We're wondering how it could be that PA has the greatest number of recoveries in a single day ever recorded. We surmise it's because they haven't been reporting their numbers properly and then suddenly did, but who knows? Either way, it's a welcome thing to see 29680 recoveries in a single day!
---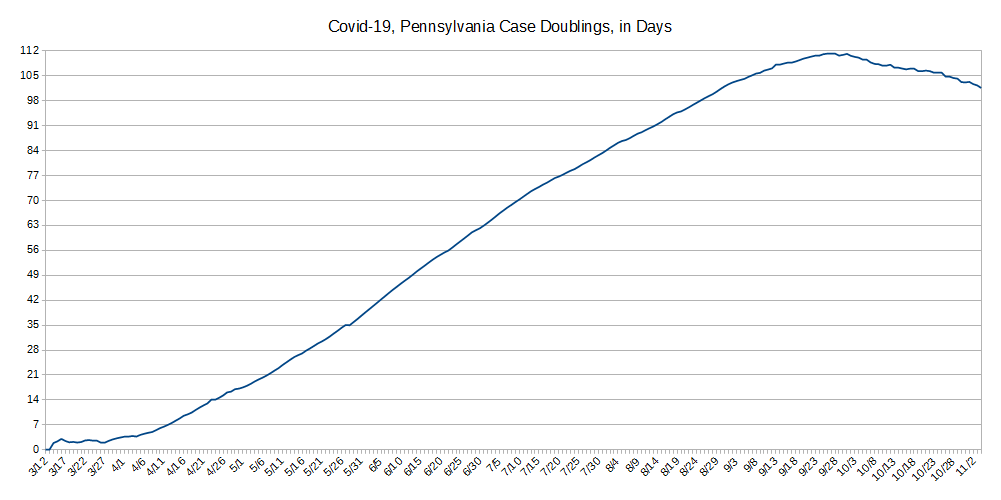 About Case Doubling-Times
The concept behind "Case Doublings" is to try and get a handle on whether one is winning the war against a pandemic or not. It's driven by how many cases of confirmed infection are recorded. It's simple: From today, looking to the past, how long has it been since we had half as many cases as we have today? That is, today represents a doubling from what day in the past?
One can also look at it in a forward direction but the information isn't as useful beacuse it jumps around lot due to subtle variations in the day-to-day number of reported cases. And, that also tends to obscure the scale. In contrast, looking backwards always gives a stable line because the daily variations shown and discussed above aren't present.
The longer it takes for the number of cases to double, the better you're doing against the pandemic, and the CHANGE in the number of days indicates whether your current actions are helping or hurting. We also think a pertinent timescale is the average time of an infected person's disease to run its course to either recovery or death, presently believed to be about 21 days.
About Pennsylvania's Doubling-Times
Unlike most all other states, amazingly, this data shows PA ignored the lockdown for a long time - 11 days. The doubling times actually got worse (lower) right after the lockdown was declared!
The early waviness of the line, basically horizontal, illustrates how PA wasn't taking this seriously at first. Things began to improve after March 27, but not by that much, then improved more, and consistently, starting April 4th. From there, the several wavers in the line have likely been caused by individual public events that got people sick.
We suspect people are tired of lockdown there and are violating it, and the result is new cases.
At this point, we can give PA a marginal grade on its performance today. The doubling time is still far below the doubling times of places that consider this pandemic a threat.
---
Do let us know what you think or even make requests or ask questions! Please either comment on our main Covid-19 page's comment section, email us, or perhaps, as we're an all volunteer team, donate to our cause.