Confirmed Case Doublings
In Days
Since The Beginning Of Data
Hand-Made Graph At Right
Click here for full size.
Click herefor the Automated version.
Click here for the data in csv format.
About Case Doubling-Times
The concept behind "Case Doublings" is to try and get a handle on whether one is winning the war against a pandemic or not. It's driven by how many cases of confirmed infection are recorded. It's simple: From today, looking to the past, how long has it been since we had half as many cases as we have today? That is, today represents a doubling from what day in the past?
One can also look at it in a forward direction but the information isn't as useful beacuse it jumps around lot due to subtle variations in the day-to-day number of reported cases. And, that also tends to obscure the scale. In contrast, looking backwards always gives a stable line because the daily variations shown and discussed above aren't present.
The longer it takes for the number of cases to double, the better you're doing against the pandemic, and the CHANGE in the number of days indicates whether your current actions are helping or hurting. We also think a pertinent timescale is the average time of an infected person's disease to run its course to either recovery or death, presently believed to be about 21 days.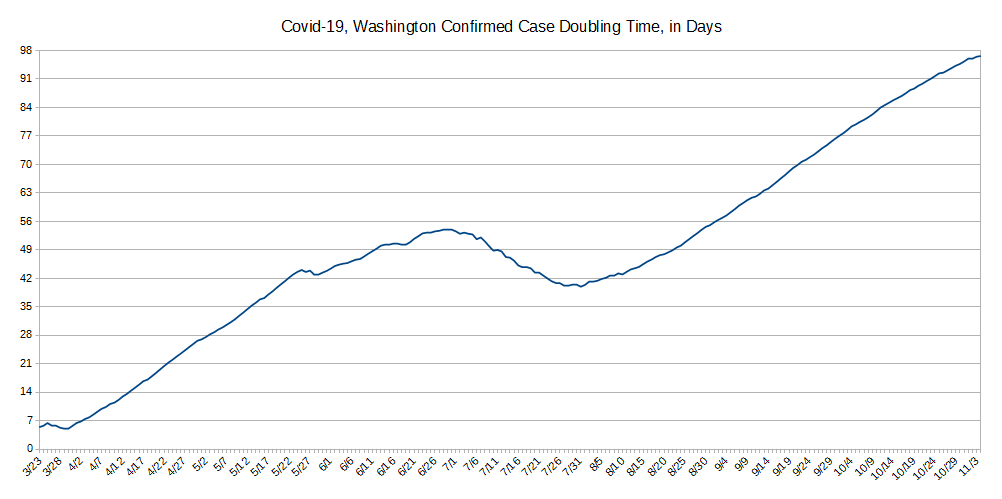 About Washington's Doubling-Times
The data starts out showing us a small wave in the doubling time, and getting shorter - going the wrong way - for a week after lockdown, and then things begin to improve.
This illustrates many didn't take it seriously at first, as we see as statistically significant with some states and not others. But once things caught on, things have gone pretty smoothly, but...
Very interestingly, there's a small but noticeable peturbation in the data every two weeks. Clearly this is some group somewhere that decides they're going to meet anyway and some get infected and it shows up in the numbers. These people are putting people's lives at risk. But obviously they don't care, even though it's members of their own group and their families that are at most risk. ... Well, isn't that typical of humanity for you?